AKC seminar: Evolution of Na+/K+- and plasma membrane H+-ATPases – which pump came first?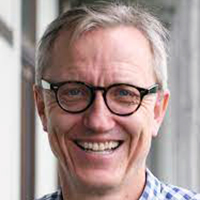 August Krogh Seminar
Professor Michael Palmgren
Department of Plant and Environmental Sciences, Section for Transport Biology, University of Copenhagen, Denmark.
Abstract
In animals, the plasma membrane is energized by the Na+/K+-ATPase. In plants and fungi, plasma membrane H+-ATPases energize the membrane but here the energy currency is H+. In my presentation, I will try to trace back the evolution of these pumps and discuss which pump came first.
Time
30 September 2022
14:00-15:00: Seminar and discussion
15:00-16:00: Post seminar servings and socializing
Venue
Auditorium 1, August Krogh Building, Universitetsparken 13, DK-2100 Copenhagen
Registration
Participation is free, but please register here.
For PhD students
PhD students participating in August Krogh seminars receive 0,2 ECTS per seminar
Contact
Jens Frey Halling, jefh@nexs.ku.dk
Jonas Møller Kristensen, jmkristensen@nexs.ku.dk 
Upcoming events